NEW AND OF NOTE
REMEMBER TO SMILE BEFORE EVERY RUN AND RACE!
This Saturday, we welcome everyone to participate in the KC Metro Youth Cross Country Classic directly behind Raymore-Peculiar South Middle School. Please arrive no later than noon. The course walk through will begin at 1:45 p.m., and the races will begin at 2:30 p.m.
This Thursday, October 1st, will start our extra practice session in the KC Area. All three practice sites in the KC area will meet on Tuesday, Wednesday and Thursday at the normal time and then on 4:00pm on Sunday.
Results from the Wichita Youth CC Meet at Cessna Activities Center are now posted. The weather was cool and windy! Coach Ramsey was very impressed with the results and how most of you have been working on your form! Keep working on your form and we will be ready at the end of the season!
You must have your 2020 YES-Membership form on file with the team and pay your team membership fee before you can practice &/or compete with the team. Just bring the form and payment to your first practice. Please contact Coach Ramsey if you have any questions.
COVID-19 GUIDELINES! Due to the ongoing concerns with COVID-19 we are establishing the following safety guidelines that should allow us to have our entire cross country season. We will continue to provide the best possible fun, rewarding and educational experience possible for every runner who becomes a member of the Brocaw Blazers at any point in the season.
We are providing two team videos to cover many of the items covered in the organizational meeting for both runners and their parents or guardians in order to shorten the length of our first organizational practice and meeting. These new videos can be found in the Team Membership section of our website.
REMEMBER the best way to improve your form and make Coach Ramsey happy is to focus on your form in front of the mirror and at practice!
Be sure to drink plenty of water throughout the day. The three most important times to drink water are when you get up, right before bed and one hour before any run. Please remember to always bring water to every run.
Any young athlete wanting to become a better runner is encouraged to be a part of the Brocaw Blazers. Our practices start the last week of August and end the week before Thanksgiving. Practices and meets are not required but they are encouraged. Our practices for youth ages 6-14 last less than 60 minutes. We had athletes involved in 10 different sports last year. Our coaches work with the parent(s) to make sure that young athletes are having fun and learning more about proper technique while working around their other sports. You are welcome to join at any point!
WEATHER POLICY - Practice will be held rain, snow or shine! The only way practice will be cancelled is if there is lightning in the area of your practice when practice is scheduled to start. We must be ready to run in any type of weather at the national meet. Also, be sure to stuff your shoes full of newspaper to dry them from running in wet conditions. That is absolutely the best way to dry them so that they retain the same shape and size.
We are missing some racing jerseys, red shorts, and spikes that didn't get returned after nationals due to the weather! Please return them to Coach Ramsey. If you need to keep your spikes for this upcoming track season, just contact him or he will have to track you down.
Anyone who has outgrown their spikes or red shorts please donate them to us so that we can put them to good use next year.

The 2019 National Meet Video is now available thanks to the great work of Dylan Hodgson!
Results from the 2019 Cross Country Coaches Youth National Championships in Shelbyville, IN are now available.
Coach Ramsey highly recommends this outstanding e-book on the role and impact of parents in youth sports. Also, please read and share 8 Tips for Sports Parents To Help Athletes Perform with Confidence.
Coach Ramsey highly recommends this outstanding video and article Happiness and Laughter Are Natural Immune Boosters.
| | | | |
| --- | --- | --- | --- |
| | We now have a facebook page! Our desire is to share pictures of our Brocaw Blazers kids in action. Join us on our page! | | |
The Happiness Advantage: Linking Positive Brains to Performance is a great video on the importance of being positive and happy in everything that you do. Enjoy the video and let's get ready to have some fun on the trip and at nationals!
Here are three great running books that Coach Ramsey recommends for your reading enjoyment. UNBROKEN: A World War II Story of Survival, Resilience, and Redemption by Laura Hillenbrand, CHASING EXCELLENCE: The Remarkable Life and Inspiring Vigilosophy of Coach Joe I. Vigil by Pat Melgares and BORN TO RUN: A Hidden Tribe, Super Athletes, and the Greatest Race the World Has Never Seen by Christopher McDougall.
The following article was written by Coach Ramsey and was published by The Coaches Insider on Sept 8, 2011. He was asked to write the article to help educate coaches and parents about the most efficient way to train distance runners.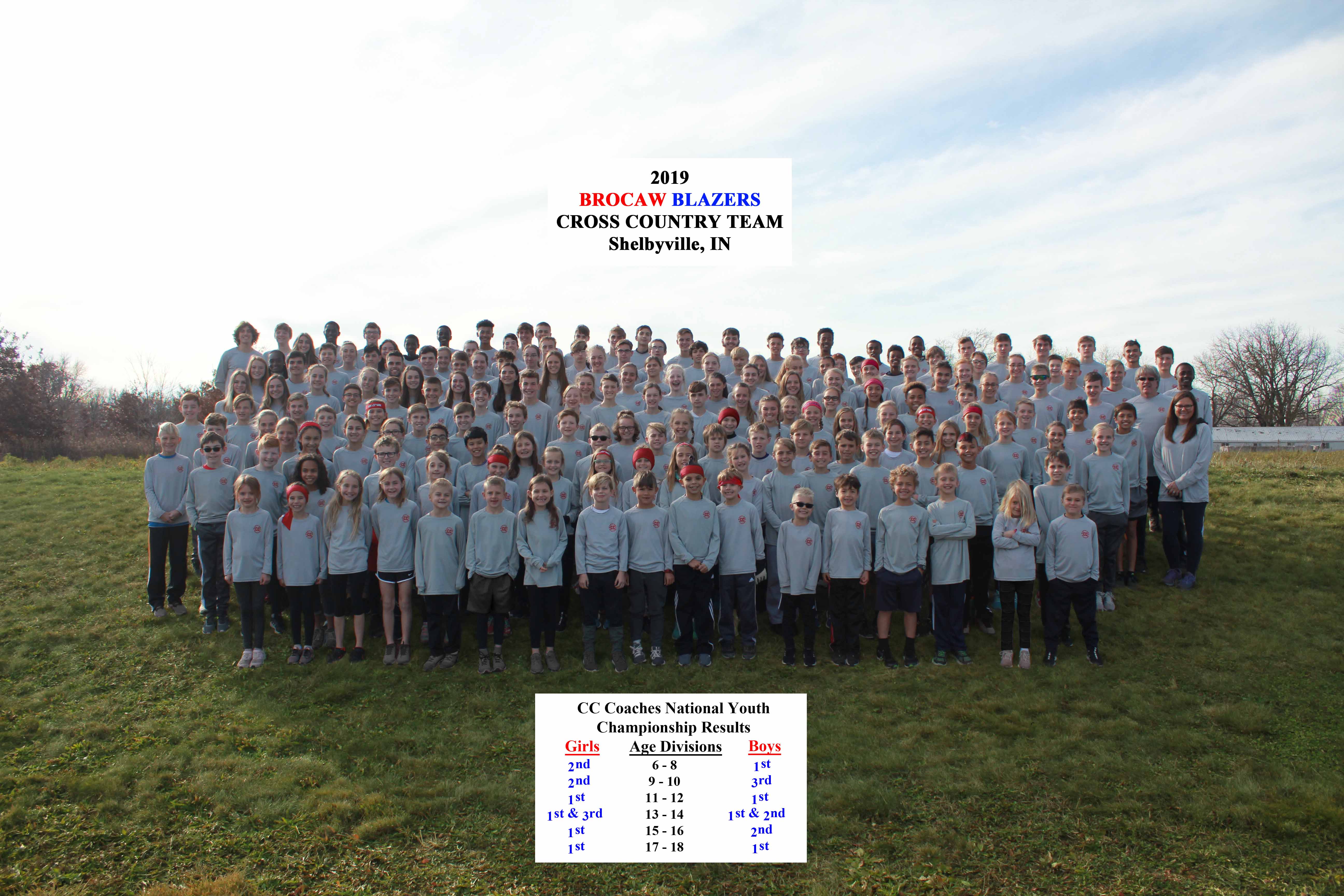 [ larger image + ]
Just one of the many obstacles that the 2004 Youth Boys team had to overcome to win the team title.