NEW AND OF NOTE
REMEMBER TO SMILE BEFORE EVERY RUN AND RACE!
We are missing some racing jerseys, red shorts, and spikes that didn't get returned after nationals due to the weather! Please return them to Coach Ramsey. If you need to keep your spikes for this upcoming track season, just contact him or he will have to track you down.
The 2020 Brocaw Blazers Senior Day for all 2020 high school seniors that have run with the team will start Saturday, February 15th at 8:15am here in the Kansas City area. This special day for the 2020 seniors is designed by Coach Ramsey to help seniors be better prepared for college while emphasizing life, learning and leadership. All seniors that have not talked to Coach Ramsey need to call him if you have questions.
SAVE THE DATE - The YES-Indoor Distance Challenge will be held Sunday, February 23, 2020 at Pittsburg State University at 1:00pm. All 7th-12th grade distance runners are welcome to participate in either a paced 800, mile or 3200. All participants will then be able to run the 4 x 400 with awards given to the most creative batons. More info will be posted shortly.
Rest & Recovery After Nationals - Coach Ramsey recommends that athletes 12 & under begin training for track at the end of March 2020. All middle school athletes are recommended to begin training again in the middle of February 2020. All high school athletes should take at least 2-4 weeks off before beginning to train for track. Please call him if you have any other questions or concerns.
REMEMBER the best way to improve your form and make Coach Ramsey happy is to focus on your form in front of the mirror and at practice!
Results from the 2019 Cross Country Coaches Youth National Championships in Shelbyville, IN are now available.
Results from the CCCNYC National Qualifier at Garnett are now posted. The weather was beautiful! Coach Ramsey was very impressed with the results and how most of you have been working on your form! He was especially pleased with those running in their first CC race. Keep working on your form and we will be ready for the national meet in two weeks!
Anyone who has outgrown their spikes or red shorts please donate them to us so that we can put them to good use next year.

Be sure to drink plenty of water throughout the day. The three most important times to drink water are when you get up, right before bed and one hour before any run. Please remember to always bring water to every run.
Any young athlete wanting to become a better runner is encouraged to be a part of the Brocaw Blazers. Our practices start the last week of August and end the week before Thanksgiving. Practices and meets are not required but they are encouraged. Our practices for youth ages 6-14 last less than 60 minutes. We had athletes involved in 10 different sports last year. Our coaches work with the parent(s) to make sure that young athletes are having fun and learning more about proper technique while working around their other sports. You are welcome to join at any point!
WEATHER POLICY - Practice will be held rain, snow or shine! The only way practice will be cancelled is if there is lightning in the area of your practice when practice is scheduled to start. We must be ready to run in any type of weather at the national meet. Also, be sure to stuff your shoes full of newspaper to dry them from running in wet conditions. That is absolutely the best way to dry them so that they retain the same shape and size.
Coach Ramsey highly recommends this outstanding e-book on the role and impact of parents in youth sports. Also, please read and share 8 Tips for Sports Parents To Help Athletes Perform with Confidence.
Coach Ramsey highly recommends this outstanding video and article Happiness and Laughter Are Natural Immune Boosters.
| | | | |
| --- | --- | --- | --- |
| | We now have a facebook page! Our desire is to share pictures of our Brocaw Blazers kids in action. Join us on our page! | | |
The Happiness Advantage: Linking Positive Brains to Performance is a great video on the importance of being positive and happy in everything that you do. Enjoy the video and let's get ready to have some fun on the trip and at nationals!
Here are two great running books that Coach Ramsey recommends for your reading enjoyment. BORN TO RUN: A Hidden Tribe, Super Athletes, and the Greatest Race the World Has Never Seen by Christopher McDougall and UNBROKEN: A World War II Story of Survival, Resilience, and Redemption by Laura Hillenbrand.
The following article was written by Coach Ramsey and was published by The Coaches Insider on Sept 8, 2011. He was asked to write the article to help educate coaches and parents about the most efficient way to train distance runners.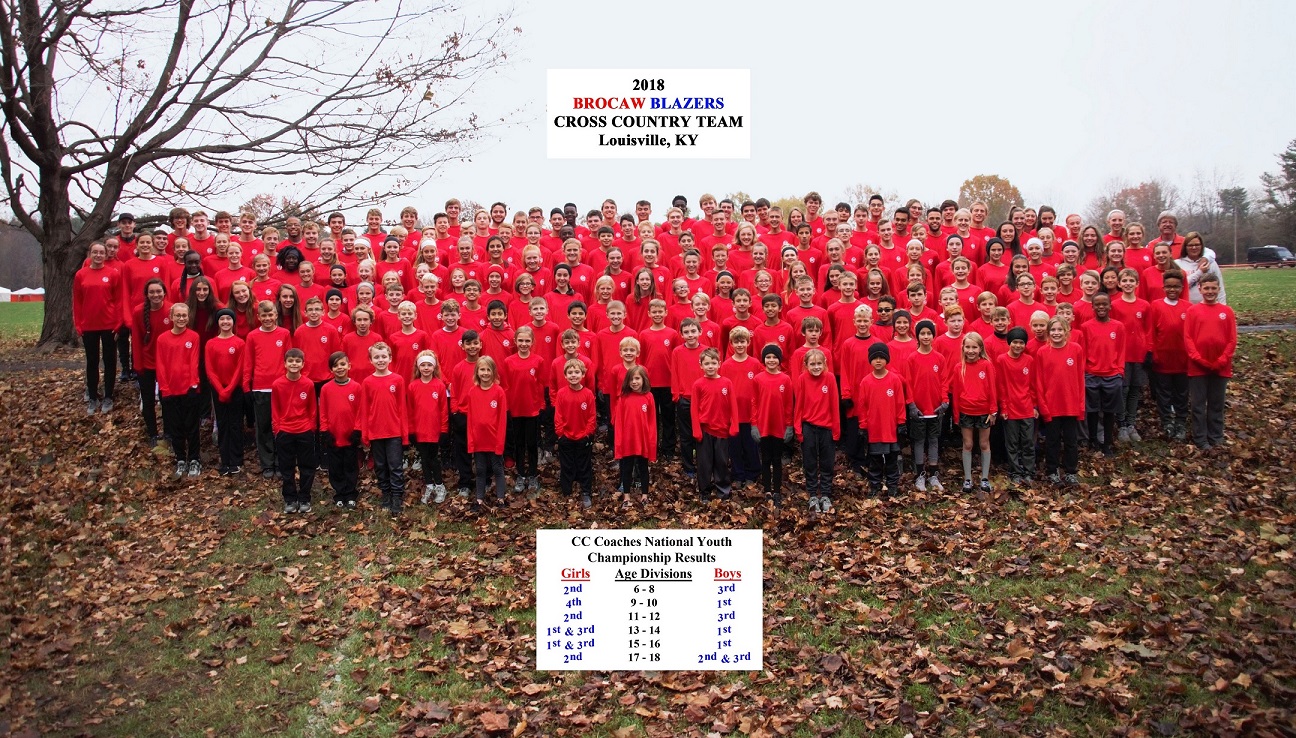 [ larger image + ]
Just one of the many obstacles that the 2004 Youth Boys team had to overcome to win the team title.