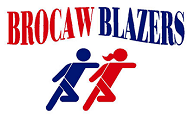 Most young athletes and their parents are interested in continuing their education and running careers at a suitable university.
Here you'll find a checklist of questions and criteria that will be helpful when choosing a college. You may also download a MS Word version of the checklist.
Important Info for the College Recruit: Student Athlete Eligibility Guide.
Many Brocaw Blazers have gone on to compete at the college and university level. Here's a list of our former athletes and their schools of choice.